Hiking in Saxon Switzerland national park
Recently my wife and I visited Saxon Switzerland national, or as Germans call it, Sächsische Schweiz and all I can say is that it was spectacular! Here I'll explain why you should visit this incredible landscape.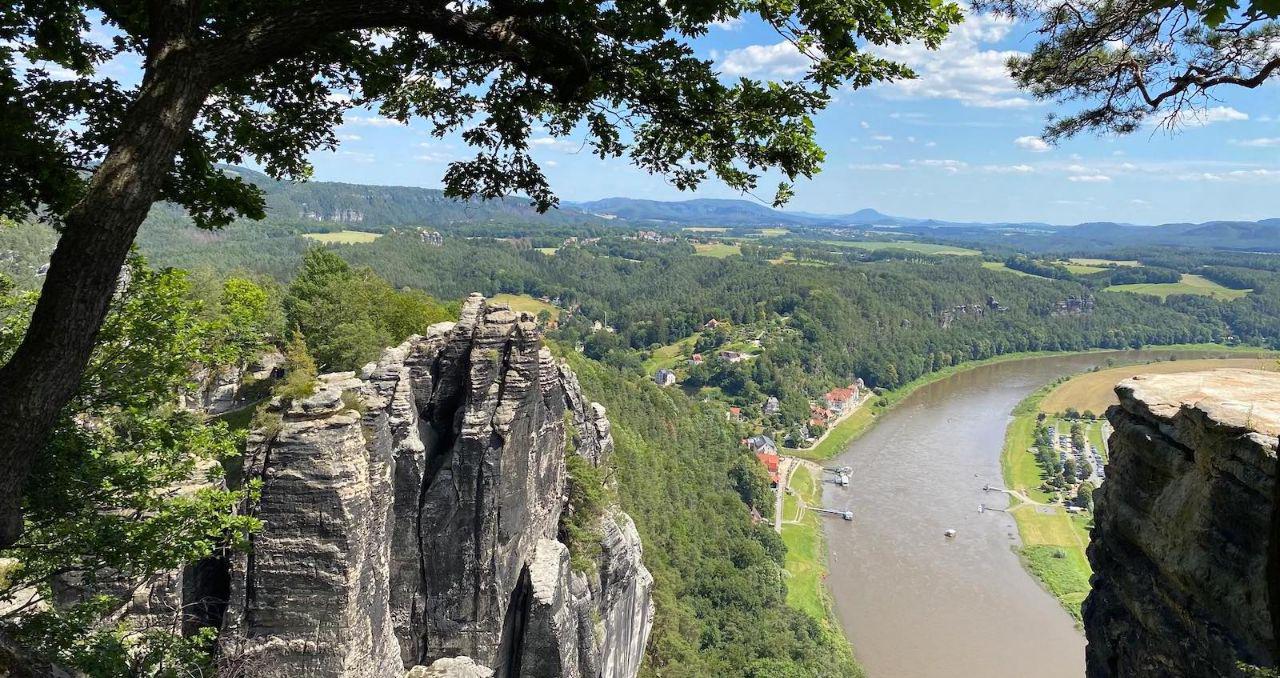 Germany or Switzerland?
Despite the name, this magnificent park is around Elbe valley, south of Dresden, Germany. It takes less than a 3h driver to get to the Saxon Switzerland national park from Berlin. This German national park is named after Switzerland because its standing rock formations and dense trees and the picturesque view over the Elbe river are reminiscent of Switzerland.
Things to do in Saxon Switzerland
Although there are hotels, restaurants, museums and you can rent a boat on the Elbe, hiking is the main attraction of Saxon Switzerland. You can find maps online or buy a paper-map when you get there, many of which depict a handful of trails for hiking from easy to hard. If you're looking to know about the hiking trails, things you can do in Saxon Switzerland to maximize your fun, you're in the right place. I will talk about the famous Bastei bridge, hiking trails, villages and towns nearby, and climbing on the magnificent cliffs.
Hiking in Saxon Switzerland national park
The Saxon Switzerland area starts from south of Dresden in Germany and expands to Czechia, where it's called the Bohemian Switzerland national park. There are many cities, towns, and villages where you can start your hike, most of which are easily accessed via train or car. I personally loved the Bastei bridge view and started my trips from there both times.
Bastei bridge, A good start point
The 170 years old Bastei bridge is a great spot to start your hikes into the Saxony Switzerland park. The vantage point from the bridge gives a great view of the Elbe river and Rathan village. In warm days you can see people riding boat some 200 m below the deck. The Elbe sandstone mountains have formed a fortress-like area that is best visible from the Bastei bridge. But don't drain your batteries, there are other scenes to capture too.
Malerweg (Painter's way)
Although the name is self-explanatory, I didn't believe how beautiful it was until I saw it for myself. We've visited the park twice. Once in July, when the park was in lush green and lively. And once in late September when it was in hundreds of colors, from dark green to orange and brown. It was beyond imagination. The Malerweg trail is mostly narrow but paved. An excellent choice to start your Malerweg hike is from the Bastei bridge. There's a small kiosk to buy maps, although you can find them online for free. The trees are dense just enough to help you forget you ever lived in a city and not too much to make the trail dark and dismal.
On the way down to the canyon, while you fill your lungs from the fresh air, you should account for thousand of stairs that you need to take to get back to where you started. So if you're not in good shape, make sure to have sufficient rest. Lucky for us, we met a guy in a traditional German outfit singing biblical songs. Hearing it out of nowhere, mixed with signing birds, had the impression of being in a Hollywood historical movie.
Fresh fish BBQ in Rathen
The Rathen village is a car-free climatic health resort, laying on both sides of the Elbe. There are hotels, inns, and restaurants in the valley where you can order dishes of just-caught fish. If you're not planning to stay over the night, I recommend having lunch there.
Boat ride
The Elbe river is a perfect stream to ride all kinds of boats and canoes. There are rental facilities in several spots, namely in Rathen and Badschandau. There's also a cruise line which stops in said places. But in case you don't feel like or don't have the time to go to the Elbe, there's a small lake called Amselsee where you can rent boats.
Rock climbing
The first things to catch your eye in the Saxon Switzerland landscape are the standing sandstone rocks. There are around 1100 cliffs where you can climb freely.
Where to start?
The cliffs (I'm not sure if all of them) are marked for their difficulty level from 1 to 7. you can find maps (paper or online) that guide you through trails with fixed or gradually increasing difficulty level.
Learn from experts
Given the annual number of visitors, there's no surprise that local experts hold regular climbing classes. You can find courses from beginner level to advanced. Although I found the prices a little steep, if you're a beginner, I highly recommend taking a class or climbing with an expert friend. The Saxon Switzerland cliffs are sandstone and require more attention and knowledge, which brings up the next topic: The Saxon agreement.
The Saxon agreement
Saxon climbing rules are important. And although they might sound strict, they are needed to protect sensitive sandstones and guarantee your safety. Here I explain in brief.
Runners are allowed, but all other metal safety equipment, such as chock-stones and solid rings, are forbidden.
You are not supposed to use the rope for locomotion, but only for safety purposes and abseiling.
The rock surface must not be modified – except to attach retaining rings on first ascents.
Chemical aids like magnesia are not permitted.
Climbing is prohibited when the rock is wet or crumbling.
Extend your hike
There are many towns and villages which hikers choose as their hiking destination. Almost all of them have hotels which you can book online and spend the night. Depending on which trail you pick, several towns and villages and many hotels are available to book. Here I'll explain the trail to Hohnstein, a beautiful small town in the northeast of Rathen.
Hohnstein
If you take a north from Rathen, you'll have a 7.4 km delightful hike to Hohnstein. On your way, you'll pass Schwedenlöcher, which is an amazing green narrow stairway. Next up, you'll pass from a stone bridge called Hockstein, which offers an endless view down to the Polenztal Valley. Hockstein bridge dates back to 1821. Continuing your journey, you're still wondering how beautiful the view of Hockstein bridge was that you make it to a wide-open viewing platform facing to a panorama view of Saxon Switzerland national park.
Happily, getting to Hohnstein is just the beginning of the trip. There are several hotels, inns, and guesthouses to book. After you shook the dirt of the way, you can visit Hohnstein castle. You don't need a map; this medieval castle is visible from almost everywhere. Every year, a puppet festival takes place in Hohnstein in honor of the inventor of the puppet Kasper, Max Jacob. Recommended by a local, we spent a couple of hours horseback riding. Don't miss it if you have time. The same facility offers archery for learning and fun, which I think families will love.